After a cold few days, September ended on a mild and wet note as a large low pressure system swept across the country. Stats for September show it was generally more settled than 1981-2010 average - drier and sunnier for the majority of the UK, and slightly warmer than usual in the south.
The first day of October brought more settled and dry conditions, before a deep area of low pressure, named "Storm Alex" by Météo-France, the French Met Office, moved up from France, bringing torrential rain and 60mph winds to the south coast. The Met Office said parts of Somerset and Hampshire saw a month's worth of rainfall in 42 hours, while Blackpitts Gate in Somerset was sodden with a staggering 116mm (4.6 in.) in a little over 24 hours. Indeed, over the whole of the UK, we experienced an average of 32mm (1.2 in.) of rain on 3rd October, making it the wettest day for UK-wide rainfall since 1891. Two of the wettest days on record have occurred this year, the second being 15th February.
Many homes and businesses were flooded across the country, and more than 40 flood warnings remained in place in England, Scotland and Wales over the first weekend. England got off comparatively lightly, though - parts of Europe suffered the full force of the storm. Météo-France reported that some of southern Alps region had 450mm (1.5 ft.) of rain in just over 24 hours, while Piedmont President Alberto Cirio said 630mm (2 ft.) of rain, a month's worth, had fallen in one day. Indeed, "Alex" brought devastation to south-eastern France and northern Italy, with several villages north of Nice suffering serious damage from floods and landslides, with roads, bridges and homes destroyed. At least three people were killed and dozens more reported missing.
The second week of October was unsettled, with rain and wind on and off and, around the middle of the week, a warm air mass holding overnight temperatures at an unseasonably mild 17C (63F)in the south, although this dipped off for a few days as a northerly airflow took over by the second weekend. The tail end of storm "Barbara", named by the Spanish weather service, arrived during the penultimate week, bringing strong winds, heavy rain and some more very mild temperatures – the south-east saw temperatures hit 19C (66F) in the south-east and even Edinburgh reached 17.3C (63F) on the 21st. A day or two of drier and brighter weather ended the third week before more heavy rain and gale force winds arrived for the weekend courtesy of a deep area of low pressure passing between us and Iceland.
October wrapped up a very unsettled note, with rain and gusty winds in the north and along English Channel coasts. Temperatures remained several degrees above the seasonal average. The topsy-turvy theme continued into November, although temperatures did fall to around the seasonal average of 11C (52F).
Website news
Some minor updates have been made to sections of the red fox and red deer articles, and I'm in the process of updating the squirrel stone-caching article in response to a number of readers who have been in touch recently describing the behaviour. The European rabbit SpeedRead was updated, and a new SpeedRead went live giving an introduction to the Highland tiger, aka the Scottish wildcat.
Not news, but a reminder of a couple of articles that are very pertinent at this time of year that you might want to check out. Pannage season comes to an end this month and if you want to find out more about this ancient practice, see the article about pigging out on the forest. As autumn turns to winter, those hedgehogs that aren't already hibernating will be feeding up in preparation for the event and they need your help. First and foremost, leave out dry dog/cat food and water if you can, and please check your bonfire before your light it. There are a couple of articles on this site that might be of interest, including Helping hedgehogs this autumn and How to make your garden hedgehog-friendly.
In the news
A few headlines making the conservation news this month include the social distancing among sick bats, cantankerous killer whales and a recording-breaking wader flight:
Vampire bats socially distance when sick. Many of us had never really come across the principle of social distancing this time last year, but it's now a mainstay of infection control during this pandemic. It turns out that bats are already familiar with this method of managing the spread of diseases and a paper currently in press with Behavioural Ecology describes how sick vampire bats mixed with fewer colony-mates, and spent less time with those they did hang with, than their healthy counterparts.
Whale of a time. Scientists are currently working to understand why a pod of killer whales has started behaving aggressively towards small boats sailing off Spain and Portugal. Over the past couple of months, the Spanish coastguard has received distress calls from yachts being harassed by orcas, with two boats having lost rudders and several more rammed. In one incident, a delivery boat was apparently surrounded by nine orca and rammed for over an hour, spinning the boat around as they whistled to one another.
La Niña and the shark. This year has seen the highest number of fatal shark attacks in Australian waters since 1934, with six people having lost their lives. Robert Harcourt, director of Macquarie University's marine mammal research group, suggested to The Guardian that cooler water temperature may be more favourable to white sharks, while increased rainfall courtesy of La Niña may have reduced the salinity of coastal waters, attracting bull sharks. Offhand, more people taking to the local beaches during lockdown seems like a likely factor.
Rewild to fight climate change. A team of scientists from Brazil, Australia and Europe are urging world leaders to focus on restoring damaged ecosystems as a cheap and effective way to mitigate the impact of climate change. In a recent paper to the journal Nature, the researchers identify numerous locations around the world where such interventions would be hugely effective and, overall, suggest that such rewilding could prevent nearly three-quarters of the predicted species extinctions.
Whistle-stop wader. A bar-tailed godwit has set a new avian flight record, travelling 12,200km (7,500 miles) non-stop from south-west Alaska to Auckland in New Zealand in only 11 days. The male bird was satellite tracked on its journey and clocked at speeds of 55 mph.
Discoveries of the Month
The rise of the ring-neck
With their vivid green and yellow plumage, red beak and high-pitched call, ring- (or rose-) necked parakeets (Psittacula krameri) are an unmistakable sight in many parks and gardens in south-eastern England. Despite the south-east being their stronghold, there are reports from across England, Scotland, Wales and Ireland. Britain's only naturalised parrot, ring-necked parakeets appear to be thriving in Britain, having expanded in both range and number to the point that the RSPB currently estimate there to be around 8,600 breeding pairs.
The first record of a parakeet in England dates to 1855, when a single bird was spotted at Northrepps Hall in Norfolk, although this population appears to have died out. Nonetheless, several others were reported in the London area through the 1880s and 90s, including a pair with five young living "on familiar terms" with sparrows in Lincoln's Inn Fields, London, during the summer of 1886. What's less well understood, however, is where these flamboyant invaders came from in the first place.
In the literature there are almost as many theories around parakeet arrival as there are populations, including escapes from aviaries or pet shops, birds brought back by sailors returning to London and escapees or releases from the set of the film The African Queen at Shepperton Studios in west London during 1951. My personal favourite is the suggestion that Britain's parakeet population stems from the release of two birds by Jimi Hendrix in Carnaby Street, central London, in 1968. One problem with all these theories is that the earliest records predate them by several decades and a new analysis of records by a team of London-based biologists pours more cold water on them.
In a paper to the Journal of Zoology, the scientists, led by Sally Faulkner at Queen Mary University of London's School of Biological and Chemical Sciences, present their analysis of reports of parakeets collected between 1968 and 2014 and records from the NBN gateway from 1968 to 2018. The reports were subjected to a statistical analysis called geographic profiling, a method originally developed by criminologists for prioritising suspects in a large pool of people. In total, nearly 5,100 records were profiled and compared against almost 108,000 NBN reports to assess how likely any of the prevailing stories were to account for the presence of a population.
Unsurprisingly, the analysis found no support for any of the popular theories about the introduction of parakeets to the UK. The data do suggest a possible association with Shepperton Studios, but the authors point out that The African Queen was actually filmed at Worton Hall, some 10km (6 miles) to the east. It's also interesting that during their search of newspaper archives, Faulkner and her team failed to find any reports claiming parakeets were released from Shepperton Studios published earlier than a BBC News article in September 2005. Instead, the archive analysis pointed to multiple releases or escapes of small numbers of pet birds over numerous years. There was also some support for the theory that some populations have their origins in the wake of the storm of 1987, when many aviaries were damaged and the number of reports jumped from 10 in 1987 to 100 in 1988, but the scientists consider that this probably only bolstered the existing established UK population. Faulkner and her colleagues end their paper with the point that:
"Certainly, in the other 34 countries on five continents in which P. krameri has been recorded as an invasive, it has not needed the help of either rock stars or movie stars to become established."
Reference: Heald, O.N.J. et al. (2020). Understanding the origins of the ring-necked parakeet in the UK. J. Zool. 312(1): 1-11. doi: 10.1111/jzo.12753
Flexible Mr. Fox: red foxes have been making the most of human settlements for millennia
The fox section is probably the most popular element of this website and I get a lot of engagement, positive and negative, from readers on the subject of foxes using gardens. On the whole, surveys tend to suggest that most people enjoy seeing foxes in their gardens, but that's not to say their presence is always without friction.
A common complaint is the nuisance that foxes sometimes cause, particularly with regard to scavenging rubbish. While we think the true level of "bin raiding" is probably overestimated, foxes often being assumed rather than observed, in a survey by myself and carnivore biologist Adele Brand published in Mammal Communications recently, 144 (23%) of the 634 respondents who answered the question told us that bin damage was the reason they disliked having foxes around. While we may balk at the idea of eating scraps from rubbish, for many species this is a readily available and low-risk source of energy and, based on recent archaeological evidence from Europe, it seems that foxes have been taking advantage of this for a very long time.
Earlier this year, Chris Baumann and colleagues at the University of Tübingen published their analysis of the carbon to nitrogen ratios in the fossilised bone collagen of various mammals taken from archaeological sites in southwest Germany's Arch and Lone valleys. Carbon and nitrogen isotope content reflects the protein part of an animal's diet and the differing C:N ratios can be used to separate plant, animal and marine protein contributions. More specifically, the nitrogen values in collagen can be used to tease out which species were being taken and even in what proportion.
The researchers studied the C:N in fossil remains of various animals collected from several archaeological sites within Swabian Jura, covering three important human cultural periods in the Palaeolithic, and used the results to reconstruct the ecological niche of foxes living in the region. The data, published in the journal PLOS One, show that the diets of foxes were very similar to those of other carnivores (e.g. wolves) in the area at the time before the start of the Aurignacian, about 42,000 years ago. Up until this point, Neanderthals were sparsely distributed in the region.
As modern humans became common in the region, however, the researchers noticed something curious: some of the foxes, and particularly those in areas where humans settled, started including a higher proportion of reindeer and mammoth meat. Despite what some of the tabloids may suggest, even reindeer are too large for foxes to hunt, but both were known to be common prey of Homo sapiens some 40,000 years ago. At the same time, those foxes living in areas that continued to experience low human presence exhibited diets more closely aligned with other carnivores and modern foxes, being composed largely of rodents. The scientists conclude:
"The higher population density of humans probably also led to more frequent visits to the caves, and the food supply from food waste resulting from the butchering of reindeer was more constant over longer times. These circumstances provided for the first time a trophic niche for foxes that lived commensal to humans."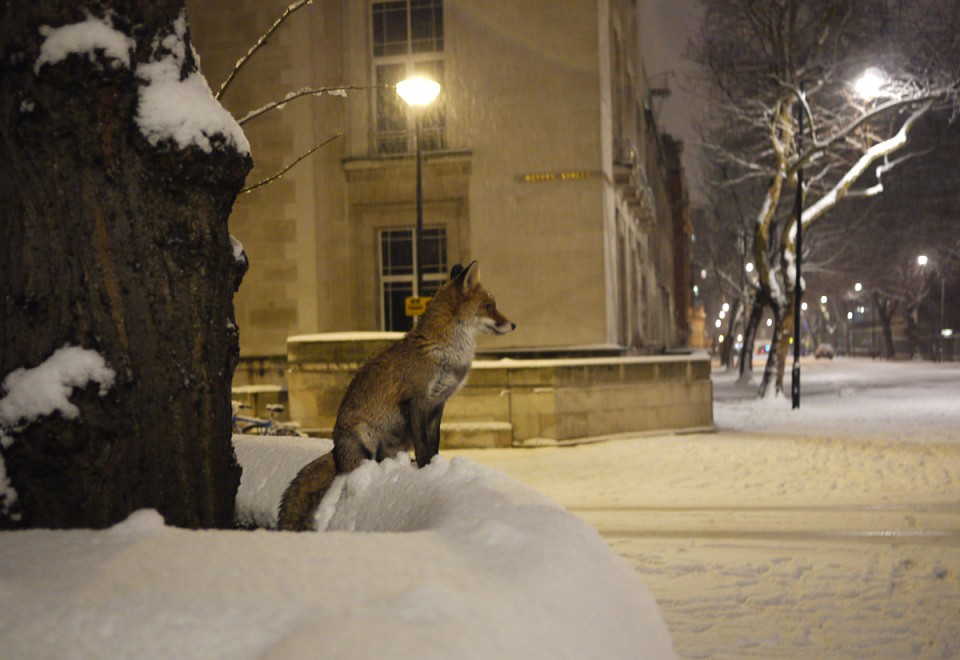 In an interview with Sci-News blog, Hervé Bocherens, one of the study's co-authors, suggested:
"We assume that these foxes now lived mainly on meat waste left behind by humans, or perhaps were even fed by them."
Or as the New Scientist put it, back in July: "Hungry foxes have been raiding our bins for thousands of years"
Reference: Baumann, C. et al. (2020). Fox dietary ecology as a tracer of human impact on Pleistocene ecosystems. PLOS One. 15(7): e0235692. doi: 10.1371/journal.pone.0235692
Related reading